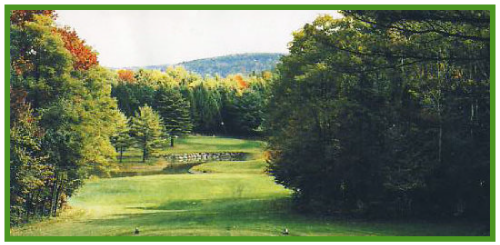 This is a dream come true story. It is about a group of good friends from Exeter who in the 1950's could not find a decent, uncrowded public course on which to enjoy golf. At that time golf was still something of an elitist's game played at private, white-collar country clubs. So, in 1956, these friends met and formed a club; dreaming of someday building their own golf course and vowing that their course would be an affordable blue-collar club.
A series of events played out that led to their dream coming true. On a 75-acre farm purchased with borrowed money ($8,600.00), cultivated with their own labor and donated equipment, they started on the journey of building their dream course. Orchards were knocked down; grain fields cut, rock walls dismantled and the rocks used as beds for the greens. Woods were cleared, out buildings and barns torn down and the land graded. The biggest task was removing rocks from the future fairways. In 1959, the first nine holes were completed. Shortly thereafter, an additional 125 acres were purchased and in 1972 the final nine holes were finished.
Today, the Emanon Country Club is a beautiful semi-private 18-hole course complete with a watering system, modern club house and pro-shop.
The founders pondered over many names for their new club, but were unable to agree on any name and finally decided to call it the No Name Club. Someone noticed the No Name spelled backward was "emanon" and so was born "Emanon Country Club."