NEW HOLE HANDICAPS
Hole Number/Hole Handicap
#1/17, #2/3, #3/7, #4/9, #5/5, #6/11, #7/15, #8/1, #9/13, #10/18, #11/6, #12/8, #13/12, #14/14, #15/10, #16/2, #17/4, #18/16
NEW USGA COURSE & SLOPE
The Anthracite Golf Association (AGA) has completed the USGA course and slope ratings for the Emanon Country Club. The new ratings are as follows:
Championship Tee (Blue) Course Rating 68.1/Slope Rating 113
Member Tee (White) Course Rating 67.3/Slope Rating 112
Senior Tee (Gold) Course Rating 65.7/Slope Rating 105
Furtherest Tee (Red) Course Rating 67.1/Slope Rating 107
Please consider joining the GHIN next year to keep track of your handicap. Thank you to the AGA, our Grounds Superintendent, Jason Brown, and all the volunteers that assisted the AGA in this endeavor!!
Emanon Country Club's 18-hole, par 70 course is both fun and challenging.  It features lots of different terrain and elevation changes to keep the player excited.
The first nine holes opened in 1959, with a second nine holes added in 1972. The course features 3 sets of tees, Blue (Championship), White (Men's) and Red (Senior's/Ladies).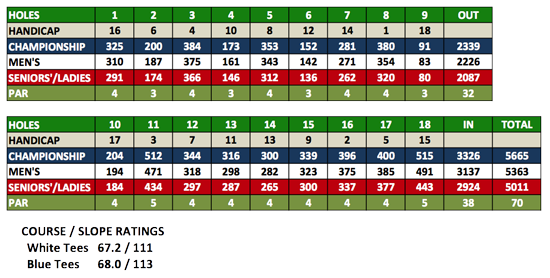 Emanon Country Club is a member of the Anthracite Golf Association, the Pennsylvania Golf Association and offers the GHIN (handicap system) for members. Our annual Founders Day Classic 3-day Member-Member/Member-Guest is our premier golf event.
In the spring, the course opens daily at 7 a.m. Tee times are available to all members starting on Tuesday at 8:00 a.m., and are dictated by prevailing conditions. On occasion, course openings are delayed by frost.
For an interactive tour of the course please click any of the hole placards below.